Children and Sexual Abuse Online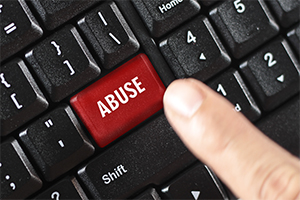 With an estimated one in four girls and one in 13 boys falling victim to sexual assault at some point in their life, sexual abuse of minors is a pervasive problem in the United States. The majority of minors who experience sexual abuse are victimized by friends or family members. Sexual predators often use social media apps to connect with and groom their victims.
How Social Media Use Can Lead to Sexual Abuse
With most teens spending between 5 to 7.5 hours a day online, social media is a major part of most children's lives. Social media use can lead to an increased risk of sexual abuse in several ways. For example, many believe that social media has led to the hyper-sexualization of children and teens, which can normalize comments or behavior that would otherwise be considered inappropriate. Additionally, while most of the interactions children have on social media are innocent, sexual predators also use these platforms to meet and groom their victims. This puts a moral and, to some extent, legal obligation on social media companies to do what they can to prevent the sexual abuse of minors.
The Current Legal Framework
Given the recent boom in social media's popularity, the existing legal framework fails to adequately address the duties a social media company has to prevent sexual abuse. However, some lawmakers have proposed new legislation that would impose a greater burden on social media companies. For example, the Kids Online Safety Act was introduced in 2002 by Senator Richard Blumenthal (D-CT) & Senator Marsha Blackburn (R-TN). The Act "would require social media platforms put the interests of children first by requiring platforms to make safety the default and to give kids and parents," by placing a duty on these companies to "prevent and mitigate harms to minors, such as content promoting of self-harm, suicide, eating disorders, substance abuse, and sexual exploitation." However, currently, the future of the Kids Online Safety Act is uncertain, as some criticized the bill for potentially increasing the amount of data companies would be required to obtain about minors.
While some efforts are underway, to a large degree, the current legal framework does impose significant burdens on social media companies to prevent childhood sexual abuse. Instead, much of the regulation is voluntarily.
What Are Social Media Companies Doing to Prevent Online Sexual Abuse?
Although the legal framework related to social media companies' obligations to prevent childhood sexual abuse is lacking, there is an abundance of recommended actions social media platforms can take to do their part. For example, the WePROTECT Global Alliance, which currently includes 97 governments, 25 technology companies and 30 civil society Organizations came up with a list of principles social media companies can follow to reduce the prevalence of child sexual abuse online.
Principle 1: Prevent access to existing child sexual abuse material.
Principle 2: Identify and prevent the dissemination of new child sexual abuse material.
Principle 3: Identify and prevent sexual predators from grooming children.
Principle 4: Identify and prevent advertising, recruiting, soliciting, or procuring a child for sexual exploitation or abuse.
Principle 5: Identify how live streaming can be used to facilitate child sexual abuse or grooming.
Principle 6: Prevent the return of child sexual abuse or exploitation when users type in certain search terms.
Principle 7: Adopt enhanced safety measures to protect children from peers or adults seeking to engage in harmful sexual activity.
Principle 8: Allow for reporting content that, while not illegal, could facilitate child sexual abuse.
Principle 9: Take a holistic approach to preventing child sexual abuse through the design and implementation of the company's policies.
Principle 10: Work with similarly situated companies to develop a set of best practices.
Principle 11: Regularly publish or share information that will enable other companies to better prevent child sexual exploitation and abuse
What Can Parents Do to Prevent Sexual Abuse of Minors Online?
Parents can reduce the risks of child sexual abuse online by focusing on educating their children about the risks and being aware of the signs of grooming and sexual abuse. Experts classify the signs of sexual abuse into three categories: emotional changes, behavioral changes, and changes in a child's physical health.
Emotional Signs of Sexual Abuse
Anxiety or panic attacks;
Confusion over a child's sexual identity;
Drastic changes to a child's self-esteem;
Nightmares;
Responding negatively to the mention of certain people;
Sadness or depression;
Unexplained anger or aggression; and
Unexplained crying.
Behavioral Signs of Sexual Abuse
Avoiding particular individuals or places;
Changes in a child's eating habits;
Changes in how a child dresses;
Changes in hygiene;
Changing friends;
Drug use;
Erratic driving;
Poor performance in school;
Receiving gifts from an unknown person;
Risky sexual behavior;
Self-harm; and
Sleeping problems.
Physical Signs of Sexual Abuse
Difficulty or pain when sitting or walking;
Missed periods;
Sexually transmitted diseases;
Sleeping problems;
Swelling or redness of the genitals; and
Unexplained bruises.
Parents can also closely monitor a child's online activity and create an open dialogue with their children to ensure a child feels comfortable coming to them with any questions or potential problems.