Kids and Gaming Platforms – More Risks than Rewards?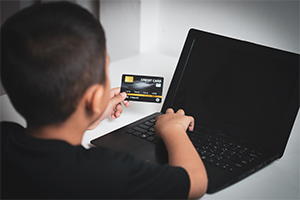 For many cost-conscious adults, playing games on one's mobile device is typically a balance between fun and frugality. Most platforms advertise free gameplay, but while this may be true, it's not the best business model. This is why most every online game has some kind of in-app purchase system, be it for buying gems, weapons, avatars, life credits, etc. A typical adult will likely try not to dip too heavily into the pay-to-play aspect of these addictive games, if only because they are spending their hard-earned cash.
When it comes to kids, their goal is usually to have fun and not much else. And with unauthorized access to a parent's digital wallet or credit card information, a youngster can slowly but surely rack up significant in-app purchases. This applies to most youngsters, since they haven't had the time or experience to understand the value of money or to recognize the effort it takes to make money in the real world. Because of this, gaming platforms present a financial risk to the families of children who tend to be less respectful of their parent's credit cards.
Additional Pitfalls for Younger Kids
The issue of addiction comes up quite often in regard to online gaming. But in addition to getting a child "hooked" on the adrenaline high that results from playing on these gaming platforms, parents need to consider the potential danger that gaming apps and websites present when they include chat functions or other social interaction features. Due to the popularity of these games, online predators will frequent these platforms and attempt to make contact with younger players.
This can be disconcerting, but parents may be able to help their kids protect themselves by changing the privacy settings to block unsolicited comments or invitations from strangers. The following are examples of popular gaming platforms that have become go-to destinations for youngsters seeking fun and diversion online, but which also present some risks as well.
Roblox is a gaming platform that has become quite a phenomenon in recent years with three-quarters of 9- to 12-year-olds in the U.S. having the app on their mobile device, according to the game developer. Although the app is free to join, young children can be easily influenced to spend significant amounts on in-app purchases — including clothing and accessories for their Roblox avatars. Some individual purchases are reported to be in the hundreds, if not thousands, of dollars.
Sadly, many parents do not realize the danger kids face when playing on this game app. Young players can be enticed to buy in-app "currency," which then can be used to purchase an array of items (from third-party apps) for their avatar. The cost for these items can range from just a dollar to some that can be had for upward of $600 — this can be risky for younger kids who don't yet have a grasp of the value of money, and complicated by the fact that Roblox has its own in-app "currency," different from real world money.
On top of the app's own enticements, some children can unwittingly be fooled by scam artists who visit the platform. Financial scams have been a significant concern with Roblox as unscrupulous individuals have been known to trick some kids into giving them valuable items purchased within the app, then disappearing into the ether. Some scammers have even posed as well-known YouTubers in order to win over a child's trust, only to deceive them into "loaning" out a valuable item before vanishing from the app.
Although many parents have been able to secure refunds following an unauthorized in-app purchase made by their child, doing so requires patience and the ability to navigate the refund policies stated by Roblox's various third-party providers.
Roblox does provide a chat option, which allows players to communicate back and forth with their friends as they play. Sharing experiences can be fun for kids, but parents may want to help younger players to avoid being scammed or otherwise targeted by strangers with ulterior motives. In the lower right-hand corner of the Roblox screen there is a blue chat box; clicking on this will reveal the platform's chat menu, including a list of friends and chat groups.
Chat groups can be especially worrisome for parents, with the potential for strangers finding their way into a youngster's conversation group. If your child feels that someone is saying or sharing things that makes him or her feel uncomfortable, Roblox provides a way to report or remove that person from a chat group that they have created. Rude or inappropriate comments violate Roblox's Terms of Use / Rules of Conduct, and the platform recommends that users select the Report User button followed by hitting the "Remove from Group" button. It's also possible for a player to drop out of a group they've previously joined.
To disable the chat feature altogether, go to the Account Settings page and find the Privacy tab; next to the "Who can chat with me in app?", select "No one," then hit Save. Turning off the in-app chat feature will also disable the "Team Create" in Roblox Studio.
Available in several different versions, the Fortnite survival game can be played on a range of devices such as Android phones and tablets, iPhones and iPads, home computers using Windows or MacOS operating systems, not to mention PlayStation and Xbox gaming consoles. Initially released by Epic Games in 2017, Fortnite's various game modes include the "free-to-play" Fortnite Battle Royale in which multiple players (up to 100 participants) fight to be the last avatar standing, and Fortnite: Save the World, a hybrid survival game in which up to four players cooperate with each other to build fortified positions in order to fight off and defend themselves against zombies.
Fortnite Creative, released a year after the first two versions, expands on Fortnite: Save the World's theme of building in cyberspace by giving players the ability to create entire worlds and fighting arenas. A fourth version, entitled Zero Build, is a Battle Royale game without the need to construct defensive fortifications, etc. Of all the Fortnite games, the most successful version for Epic Games has been Fortnite Battle Royale, which quickly became a cultural phenomenon and attracting a stunning 125 million players over the course of its first year on the scene.
As a franchise, Fortnite garnered Epic Games $9 billion in gross revenues in its first two years alone. The age range for all of Fortnite's iterations is the 6- to 16-year-old demographic. It's interesting to note that younger kids find the cartoonish characters and weapons very appealing; but even so, because it's a shooter-style game, some parents will need to decide whether they want more impressionable kids playing these type of games.
Although Fortnite is completely free to play with no pay-to-win enticements, in-game purchases are still a possibility due to the availability of upgrades to in-world cosmetics, "character skins" and dances. Some of theses can be unlocked without spending "V-Bucks" (purchased using mom and dad's real-world cash), but for a child wanting to upgrade a lot of his or her experience it's going to get a bit pricey. The Fortnite Battle Pass — which may be the most cost-effective approach — is one way to unlock more cosmetics and gain access to exclusive items.
Aside from its general violence — gameplay doesn't involve any real blood, gore or graphic depictions of injury or death — the games' provision for text or voice chat with other players means there is real-world potential for danger as Fortnite's live chat features can expose a child to cyberbullies, adult predators or other unscrupulous individuals with malicious intent.
Fortunately, the Fortnite platform provides parental controls via the Epic Games Store, which most importantly allows users to deactivate the voice and text chat features. This will be a necessity for many parents looking to protect their kids from online threats, especially when taking into account that Fortnite regularly sees up to four million concurrent users across all of its platforms.
From a strictly cost-conscious standpoint, without sufficient adult supervision or intervention, a child could easily find themselves being pressured by aspects of the Fortnite platform to spend in-game currency. Spending the platform's V-bucks allows users to add cosmetics to their gameplay, which many children see as a kind of self-expression amongst their peers. It's not uncommon for some kids to go a little overboard, buying V-bucks or obtaining battle passes in the absence of parental oversight.
Of course, physical safety is most parents biggest concern for the kids, so here are the most common risks associated with playing Fortnite:
Communicating or otherwise interacting with other players via the platform's voice and text features can expose kids to possible online predators. This is difficult to avoid since Fortnite provides these communication features for players who are on a particular team or when a player is in direct proximity to another player during gameplay. Sadly, exposure to offensive or abusive language is one of the lesser risks that such situations present for kids
Fortnite is not recommended for younger, under 13-year-old children. Although younger children are not barred from playing on the platform, it is highly recommended that parents pay close attention to those young kids who beg to play the game
There is always the danger of children being lured away from the Fortnite platform and onto another, unmoderated app or website such as Discord, Reddit or other online social venues. Again, parental oversight is important to protect kids, especially the younger ones, from potentially dangerous online threats
To help protect younger players, Epic Games provides a guide for parents who wish to control certain aspects of its Fortnite game platforms, such as what a child can see or do within these games. For example, Fortnite includes controls affecting the player's social, purchasing, content, and access permissions. Social permissions can help a parent to manage a child's online social contacts and interactions while playing on the Fortnite platform by setting up a PIN, which will be required to send or accept a friend request via the game platform. (Keep in mind that these controls don't affect friending features hosted by gaming systems themselves — such as PlayStation, Xbox, Nintendo Switch, and Steam — each of which will require changes to that game system's settings to more effectively protect youngsters.)
Parental Control of Fortnite Voice and Text Chat
The greatest risk to kids when playing Fortnite is the potential exposure to, and interaction with strangers on the internet. Parents can eliminate this immediate risk by adjusting the Epic Voice Chat permissions, which control who your child can speak with via the platform's voice chat feature. Those settings allow parents to specify whether a child can speak to any player who wants to chat with him or her; chat only with players in their Epic friends list or specific platform friends list; or players competing on their team. Parents can also shut voice chat off completely, if they choose.
Similar settings are provided to control text chat between a child and other players. There is also a Mature Language filter that allows parents to censor instances of profanity from their child's text chat interactions. It's important to note that when selecting "Nobody" in the Text Chat settings, the platform will still allow players to communicate with each other using a very basic set of pre-determined (read: safe) in-game text messages, such as "Nice one!"
Parent's Shouldn't Rely on Fortnite's Purchasing Controls
When it comes to setting limits for in-app spending on the Fortnite platform, purchasing permissions should be designed to help parents prevent unauthorized spending by their child, but watch out. Epic Games' payment function provides for a Parental Controls PIN, which must be used if an under-13-year-old player wants to make purchases exceeding a daily maximum. The problem is the daily maximum of $100 is something that many families would consider an absurdly large amount for a youngster to rack up on a daily basis completely unsupervised.
That $100 maximum amount applies to total purchases made each day using Epic Games payment feature in-game on the Fortnite, Rocket League, and Fall Guys platforms, as well as within the Epic Games Store. Note that this limit does not apply to payments made using game consoles (PlayStation, Xbox, etc.) and does not apply to any purchases made using Epic's in-game currencies — V-bucks in the case of Fortnite.
In short, parents will need to be extra vigilant when it comes to Fortnite (and other Epic gaming platforms) since the system is set up to make money on players purchases, not protect families from unexpected financial debt rung up by young children playing games online.
This game has attracted many teens and tweens, and though it features mild violence, there is no gratuitous blood or gore. Genshin Impact does have an addictive component featuring gambling with loot boxes, which may be a little too much for younger children to resist. The use of loot boxes could cause some kids to become obsessed with unlocking them, which in turn could lead to excessive purchases.
Although the complete game can be experienced without making any in-app purchases, Genshin Impact's developers provide players with numerous opportunities and reasons to do so. The fear of missing out (FOMO, for short) is used throughout the game as a motivator for purchases, especially in regard to certain characters who may take weeks or months to return to gameplay. In-app spending tends to spike when new "five-star" characters are introduced; however, since there is no in-game way to check a player's purchase history, the only way is to review your credit card statements (or Paypal transaction history), either of which could raise a red flag for parents.
Coin Master has grown to be one of the larger social games with players building and leading villages while attacking those belonging to your friends and defend your own. The many different aspects of the game tend to make it very appealing to youngsters, as well as teens thanks to appearances by celebrities such as Terry Crews and members of the Kardashian family.
Coin Master characters travel through time to become the pirates, hippies, kings, warriors, vikings, and many other historical personages, which can be truly enticing for many kids. However, one major negative aspect for every parent to consider is the app's frequent use of simulated gambling throughout the gameplay. With elements such as a virtual slot machine — where players can win coins, shields, and weapons to use throughout the game — Coin Master can easily draw in adults who may be prone to gambling problems; it goes without saying that this kind of game app is not recommended for children.
Furthermore, the game's networking aspect links a player's Facebook account, which could allow a child to connect with other players, some of whom may not have good intentions or may be online predators searching for vulnerable individuals. All the more reason for parents to keep a close eye on their child's online activities. If a youngster has access to his or her parent's credit card, the monetary aspect of this gaming platform could also become a problem.
Candy Crush Saga is pretty much ubiquitous among individuals seeking to break out of the boredom of everyday life. In fact, anyone who has sat in a doctor's waiting room, company cafeteria, airline lobby, or almost any public space where people are relaxing, waiting on line or just whiling away the hours, you will probably see more than one person playing Candy Crush Saga. The platform has long been a staple of smartphones, taking its inspiration from the old standard, Tetris and mashing it up with the action of a slot machine. Having established a foothold in social media, it has become one of the most popular games on Facebook.
Created by app developer King, which is owned by Activision, this game has become a godsend for bored people worldwide. Candy Crush has the distinction of being one of the all-time most popular games on Android smartphones, with quarterly revenues of about $200 million. But sadly, the financial success of Candy Crush only points up the addictive nature of the game. For parents, this is a bad sign, especially when they realize their child has become addicted to such a simple game.
While the app is advertised as free, there are multiple opportunities to buy additional candy and cookies — each of which require an in-app purchase — allowing the player to progress further into the games multitude of levels. Combining the addictive design of this game with the potential for a child to use a parent's credit card without his or her permission can lead to unexpected charges.
Aside from the monetary cost of Candy Crush and other games like it, kids (like their adult counterparts) can be sucked into what is essentially a never-ending game of catchup. The insidious nature of such games play on the human desire to complete a set goal. The problem is, the goals presented in Candy Crush Saga are constantly moving; as soon as one is attained, another pops up to further entice the player. Ultimately, parents will likely feel compelled to intervene, though the addiction that is instilled in players may make it difficult to separate your child from such an addictive platform.
PUBG Mobile is billed as a free 12-years-and-up video game from LightSpeed & Quantum Studio. Adapted for mobile devices, it is based on the PUBG: Battlegrounds game and debuting in March 2018. As of the end of 2022, downloads of PUBG Mobile totaled approximately 1.3 billion with more than $9 billion in revenue. As a measure of its success, PUBG Mobile is reportedly the second most-played mobile video game of all time.
Gameplay takes about 30 minutes and involves players parachuting onto a remote island and fighting to stay alive, with the ultimate goal of being last player standing. Players can fight solo, or in teams of two or four. The size of a "safe zone" and other factors results in a loss of "health," potentially to the point of death. Depending on the stage of the game, player with no more supplies or weapons must locate more in the local environment, or loot them from "downed" players — the better weapons and equipment are located in more dangerous areas.
Parents may find the violence portrayed in this game as problematic for impressionable children. In fact, PUBG Mobile was cited as an influencing factor after a 14-year-old Pakistani boy reportedly shot and killed his entire family. While the platform is ostensibly a free-to-play format, PUBG Mobile also includes in-app purchasing opportunities that allow users to alter certain cosmetic features of the game. Combined with the addictive aspects of this game, some youngster's may be enticed to upgrade the look of the game, which may possibly begin a pattern of frequent in-app purchases as he or she progresses through the various levels.