Curbing Kid's Unauthorized Purchases on Mobile Devices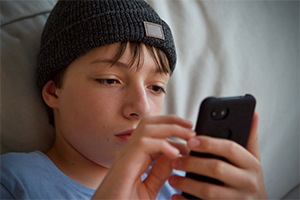 Protecting ones a physical credit card from unauthorized use by your kids can be a daunting task at times, but it can be many times easier when compared to curtailing use of an app that already has payment information associated with it. Even so, many parents have become much too at ease with — or perhaps resigned to — handing their smartphone over to a child who "only" wants to use it for a few minutes to play a game or watch the latest TikTok videos.
Of course, not every child is prone to abusing their parent's generous overtures, but in the hands of an unscrupulous child such this can lead to more trouble down the road than most parents often imagine. Disputing unexpected charges and purchases after the fact may be possible, but it can be a real hassle especially after the often costly financial damage has already been done. So, what are parents left to do? The following information may help parents in their quest to satisfy both their child's desire for occasional diversion and their own need to keep the family's finances intact. This can be especially important for households where family sharing has become standard practice, and where mobile apps make it far too easy for kids to take advantage of their parents' credit.
Families with iPhones, iPads and Other Apple Devices
No mobile device exists in a vacuum, and so it is that software developers have made it possible to copy and share one's favorite songs, videos or photos with another family member. But the fun and convenience of sharing music, movies, viral videos and other data between individual family members' mobile devices often creates additional headaches for parents of young children. Apple's Family Sharing feature can offer some relief by returning a modicum of control back to moms and dads. This feature can impart some level of parental control over their child's iPhone or iPad while still allowing kids to feel free to explore the world. Click here for the Apple Support page that explains the ins and outs of its Family Sharing service.
Starting a family group is as simple as inviting members to join up themselves, or you can ask to join another person's family group as well. The service allows up to six family members to share data across devices and can include online subscriptions (including iCloud+); none of which requires the sharing of your personal Apple ID. Especially important for parents of younger children and teens is the ability to set up an Apple ID for kids, as well as remotely setting and adjusting various permissions, and limiting the amount of time a child spends on their device via Apple's Screen Time controls.
In addition to monitoring kids use of their devices, approval of a child's spending and downloads is also possible from the parent's device with an "Ask to Buy" function. Apple Cash can also be set up for children or teenagers by the "family organizer" using the adult's iPhone, iPad, iPod touch, or even from their Mac. Keep in mind that when purchase sharing is activated, the family organizer will be responsible for paying family members' purchases. In order to take advantage of purchase sharing, the family organizer must maintain a valid method of payment method with Apple.
Be aware that Apple's Family Sharing feature, like similar services from other smartphone makers, may not be the perfect solution for everyone, but it's a good place to start if your family uses Apple devices almost exclusively. As usual, it is important to understand all the features of the service in order to judge whether it will work for you and your family.
Do Android Devices Also Offer Parental Control Features?
Android-powered devices do offer parental control features, which shouldn't be too surprising since Android is the most common operating system used in smartphones today. Google launched the Android operating system in 2008 at no cost to smartphone and tablet manufacturers interested in using it. As a result, more than two billion of people worldwide use Android-based mobile devices made by such companies as Samsung, LG, Motorola, Philips, and HTC, just to name a few.
The shear ubiquity of Google's operating system means that a huge percentage of children are growing up in households with Android-powered devices. Because of this, nearly every popular gaming app has been designed to work on devices powered by this operating system, all of which are typically available through the Google Play Store.
The success of Android-powered devices, thanks to their robust operating software, means that there is ample opportunity for children to access a bewildering array of gaming and entertainment apps. But the resulting rise in screen time associated with these very young users presents potentially negative consequences for many kids' cognitive development, which has created heightened concern on the part of parents and grandparents across the country. Aside from potential developmental issues, youngsters' increased use of mobile devices can inevitably lead to more frequent exposure to inappropriate content and other online threats.
Because of the potential online threats facing kids these days, Android-powered smartphones have provisions for parental control to help adults keep their younger children and teens as safe as possible. Like Apple, Google has a service known a "Family Link," which must be enabled on both the parent's and the child's smartphone or tablet in order to work properly. To access Family Link, a parent will need a Google account to control the operational settings on their child's Android device.
Among other functions, the Family Link service (available through the Google Play Store) allows an adult to approve or block downloadable apps from Google Play, set daily limits on app usage, place restrictions on downloaded content, and even keep tabs on their child's whereabouts. Family Link also allows parents to manage which devices their child may sign into with their Google account, as well as remotely lock their child's device should the need ever arise.
For youngsters who use an Android-powered tablet, Google also provides a feature known as "Kids Space" – for children under 13 years of age – which offers child-appropriate content. Please note that in the U.S., Google's Kids Space only works with supervised Google Accounts for children under 13, after which age the child can decide whether or not to manage his or her own account and, as a consequence, will no longer be able to use Kids Space feature. Here is a more detailed explanation of Google's available parental control features.
Once the Family Link controls are set up on a child's mobile device, there are several options from which to choose. A "Highlights" feature allows an adult to view the most recent activity on a youngster's device, which includes being able to see the latest app their child may have downloaded (please note, however, that you won't be able to see the specific content your child is viewing).
It is also important to understand that content restrictions via Family Link only apply to Google-specific apps (YouTube, Google Play, etc). As for non-Google apps — such as Instagram and TikTok — parents will have to use the controls provided within each specific app, which most gaming and social media platforms provide in one form or another.
The Family Link "Controls" feature provides the ability to limit how long a child can use a device over a 24-hour period. Similarly, parents can use the "Downtime" function to specify certain periods during the day or night when their child's mobile device will be locked, such at bedtime or when the child should be working on his or her homework assignments.
For situations where a device is shared between family members of widely varying ages, Android smartphones and tablets provide PIN-enabled purchasing of content and downloads based on the maturity level of the desired app, movie or book. This feature can help parents limit a child's downloads to a pre-set maturity level, which can only be overridden by using the proper PIN.